You are here
ClubFootball League Teams Introduction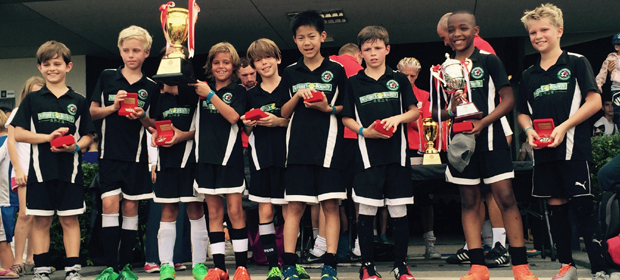 ClubFootball's junior league teams are Level 3 of ClubFootball's 3-level Development Programme and designed for advanced players who already have good basic technical skills and are ready for the challenge of regular competitive match play.

Teams train midweek and play matches every weekend, competing in leage competitions such as the Beijing International Junior Football League (BIJFL) and Haidain International Junior Football League (HIJFL). These leagues are managed by ClubFootball and designed to allow players to develop their game in a friendly but competitive environment, and sportsmanship and teamwork are emphasized throughout.
ClubFootball teams compete in the U7 to U14 age categories, with 23 teams entering in the Spring 2016 season; ClubFootball teams play all-year-round with the competitive seasons running in Spring and Autumn and the Winter season spent training and playing friendly matches to prepare for the new season. In addition to the regular league competitions, ClubFootball teams also compete in tournaments across Asia, from Shanghai to Bangkok and Singapore (the picture above shows the ClubFootball Foxes, winners of the international CUKI Cup in Bangkok in 2015).
Teams are based at ISB (Shunyi), CISB (Liangmaqiao), and Lido Place, with each team having either one or two training sessions per week. One training session is for tactical match play where players work with the Sunday coach to practice specific team training, and the other is an advanced technical session which focuses on developing higher level skills for match play. Midweek training sessions are generally held from Tue to Fri, from 5pm.
Please note that spaces on team rosters are limited, and the competition for places is getting harder every season. All players who wish to join must attend a tryout assessment to check the league is the most appropriate option for their skill level.
Where coaches feel the player will benefit from more playing experience before joining a team, the player will be recommended to join a suitable skills or invitational programme. In this programme, he/she will be monitored closely by the coaches and their progress will be tracked with the aim of preparing him for league play once he/she is ready.
To register your interest, find out more about our junior league teams, or organise a tryout please contact ClubFootball.